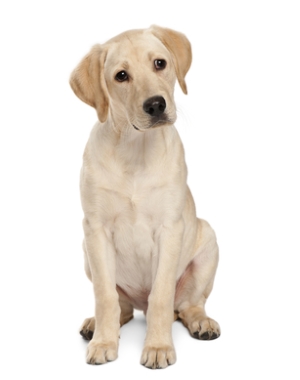 Country
Canada,United Kingdom,England
Generic
Canada is the motherland of these wonderful dogs. Height of male-dogs can reach 56-61 cm and height of lady-dogs is 53-59 cm. Weight of male-dogs is 26-36 kg and of lady-dogs is 25-33 kg. This breed is good for living in apartment with a lot of walks. Life expectancy of dogs is 13-14 years. Important is these dogs are suitable for inexperienced dog owners.
Appointment
Labradors are loyal and hardy dogs. They value a society of people and are patient with children. Labradors are easy-going, it's easy to get them to walk and start playing. Labrador will gladly pick up your idea.
They have a high capacity for learning. Obedience and intelligence are the features of this breed. Dogs often get along with children and easy cope with the role of the tailed nanny. In virtue of their intellect and temperament Labradors can't stand loneliness. Therefore, leaving your pet alone at home, don't forget unspent energy can cause damage to household goods and discouragement of the dog.
To entertain Labrador and make its life happy, you should walk a lot with it and play fun games. The excellent condition for Labrador is a country house, where he can run a lot. In case of keeping it in apartment, you have to take care of regular exercise and its being in open air. Labradors become real family favorites and that's why their popularity grows every year. If the owner is inexperienced and isn't used to live with a large dog, a Labrador can become a big problem for him.
Although Labradors are in the top ten most intelligent dog breeds you can often hear yelps about their naivety and restlessness. It's the result of their boundless energy and thirst for cognitive activity and high activity. Also we can make such conclusions because dogs grow long: about 3 years of their life that bring notes of naivety in their temper. But time spent on training and educating will make him your best friend. It is necessary to observe basic safety rules when the dog plays with the baby. Although they practically haven't aggression gene, they can cause injury because of their sizes. Especially be careful with puppies.
I may dissappoint you because if you want to have a patrol dog, Labrado-retrievers aren't suitable for this. That small part of aggression he has, would only cause a loud barking. Labrador Retrievers have become very popular. There are many rescuers and guide dogs among them. Speaking of the family dog, most people only think about Labrador-retriever. These dogs are incredibly popular and if you care of them and living conditions are good they will be true family members.
Health
Unfortunately, Labradors are prone to diseases such as hip and elbow dysplasia, retinal degeneration, pododermatitis, epilepsy, lipomas, tricuspid valve dysplasia, diabetes, retinal detachment, osteochondrosis and myasthenia. Dogs can suffer from excess weight. Excess weight often is the cause of poor health and short life of Labradors. Don't forget about their high intelligence and don't let the dog get bored, entertain it with physical activities and games, and, of course, give it much care and communication.
Training
Labradors have a pretty thick waterproof hair, which greatly facilitates the care of it. Nevertheless, you should care of its hair. Its hair consists of long hairs and soft undercoat. Combing with a special brush once a week will be enough to remove old hair and bring the dog into appropriate look. Use a little amount of shampoo while bathing in order not to lower waterproof properties of its hair.
Perhaps bathing in natural waters will be enough to clean the hair.
It is recommended to regularly check their ears for parasites and infections. Dogs with floppy ears are more prone to such diseases. Also, regular checkups will help to notice the tick or to determine the time of cleaning hair.
Labradors need plenty of exercise, especially in the first three years of life - a period of active muscular system growth of the dog. At least walk with it twice a day. Also check the collar and leash fortress because Labradors have a strong neck and shoulder girdle and easily can overthrow you and drag on a leash. In addition to these walks, the dog needs free space where it can practice and warm up. The ideal place would be the backyard of the house. Check the height of the fence, because these dogs are great jumpers.
Labradors enjoy swimming and if you combine walks with swimmings you will make your pet incredibly happy. Although you should begin water treatments step by step. Shore front should be flat so the dog can easily get out on the land when is tired to swim. Therefore it is necessary to protect a dog from a dive over the cliff otherwise it will be difficult to get out of the water.