Georgia is home to a diverse array of wildlife, including some species that are considered exotic or non-native to the state. While it is illegal to keep certain exotic animals or native wildlife as pets in Georgia, there are still a number of unique species that folks can, in fact, own legally. Here, we will take a look at the top ten exotic animals legal in Georgia, discussing their unique characteristics and any special requirements for owning them.
Sugar Glider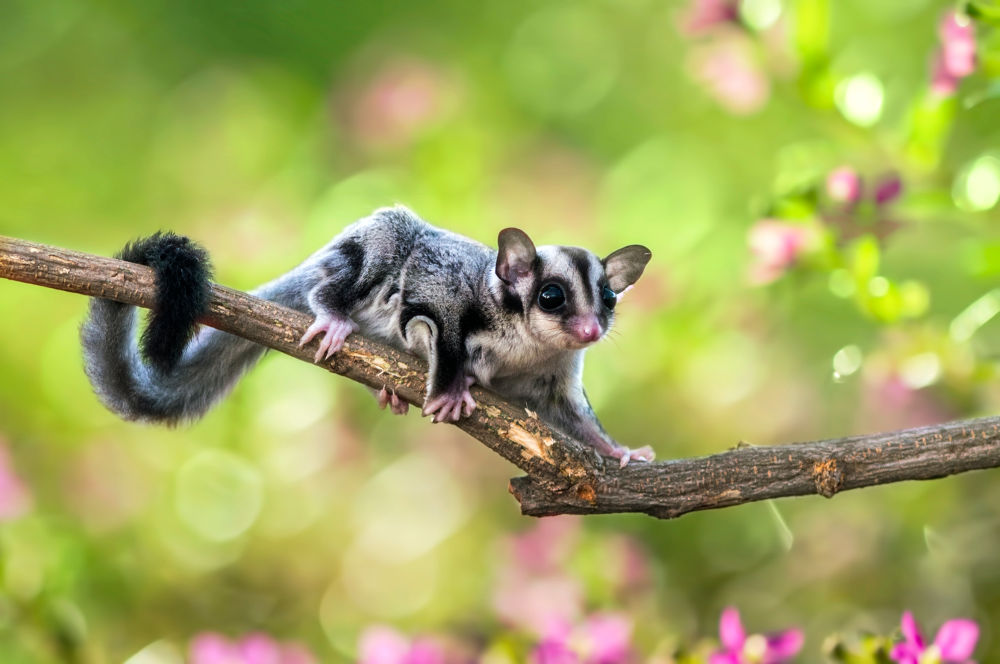 Sugar gliders are small marsupials native to Australia and New Guinea. They get their name from their love of sweet nectar and, of course, their ability to glide through the air using a membrane that stretches between their front and hind legs. They have a lifespan of about 8-10 years and require a special diet that includes a mix of insects, fruits, and vegetables. Thanks to their playful and curious nature, sugar gliders are popular exotic pets, but it is important to research their care requirements thoroughly before considering getting one, as they can be challenging to care for, especially for beginners. They are nocturnal animals, which means they will be most active at night and may be disruptive if kept in a household with people who are trying to sleep. Sugar gliders can be quite vocal. They are known to make a variety of sounds like chirps, clicks, and even yapping sounds! Sugar gliders can also be quite smelly since they have scent glands that they use to communicate with other sugar gliders. They are social animals and do best when kept in pairs or small groups, so you will need to be prepared to commit to caring for at least two sugar gliders. Sugar gliders are prone to certain health problems and require regular veterinary care. They can also be expensive to care for, as they require a spacious cage, a special diet, and veterinary care. To own one of these cute creatures in Georgia, the owner must have documentation that the sugar glider originated from a source that is inspected and regulated by the United States Department of Agriculture.
European ferrets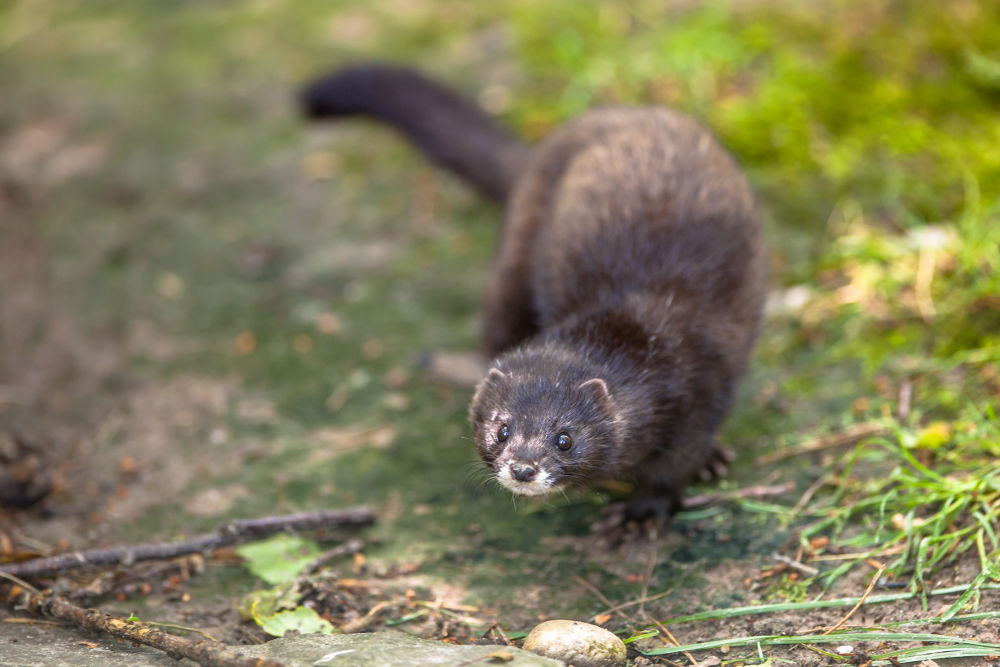 European ferrets, commonly kept as pets for centuries, are a domesticated species known for their playful, energetic, and curious nature. With long, slender bodies, short legs, and a pointed face, they typically grow to be around 20 inches in length and can be brown, black, or white in color. Some folks say they are almost snake-like with their long slender bodies! Their short, thick coat of fur requires regular grooming to maintain. In Georgia, they can be kept as pets if they are vaccinated against rabies and neutered or spayed by seven months of age. European ferrets are closely related to the black-footed ferret, native to North America, and the Steppe polecat, native to Eurasia. These carnivorous mammals are intelligent and can be trained to do simple tricks and obey basic commands. Although they are generally social animals and can get along well with humans, European ferrets can be territorial and may become aggressive if they feel threatened.
Most often, though, they are playful and energetic animals that require a lot of stimulation and attention, so they may not be the best choice for people who are frequently away from home or who have very busy schedules. Ferrets are very social animals and do best when they have the company of other ferrets or humans, so it is always best to keep at least two ferrets together. They should be kept in a spacious cage with plenty of room to move around and play, and they should be let out for several hours a day to play and exercise. Ferrets have a lifespan of about 6-8 years on average, but some may live longer with proper care.
Chinchillas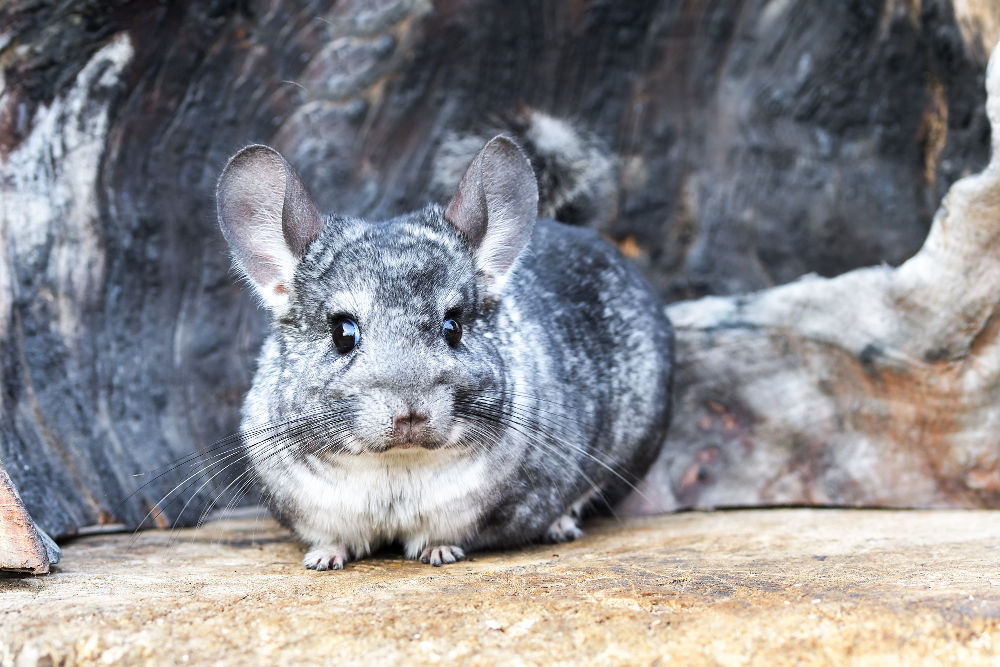 Chinchillas are adorable, furry rodents native to the Andes Mountains in South America. They are closely related to guinea pigs and make great pets due to their social nature and soft, plush fur. In fact, chinchillas were once hunted almost to extinction for their pelts due to the high demand for their luxurious fur.
As nocturnal animals, chinchillas are most active at night and love to jump and play. It is important to provide them with plenty of toys and space to exercise their agility. However, it is also important to keep in mind that chinchillas have sensitive respiratory systems and should not be kept in environments with high humidity or dust. It is essential to handle them gently to avoid stressing or injuring them.
Despite their small size, chinchillas are intelligent and social animals that can become very affectionate with their owners. They make wonderful pets for those who are willing to devote the necessary time and effort to properly care for them.
  Chinchillas are social animals that thrive on interaction with others of their own kind. It is important to keep this in mind when considering their care and housing. These adorable and unique creatures have a lifespan of about 10-15 years and are known for their dense fur, with up to 50 hairs growing from each follicle. In order to keep their fur clean and healthy, chinchillas have the unique ability to "dust bathe," which helps to remove excess oil and dirt. In addition to their luxurious coats, chinchillas are also known for their strong hind legs and impressive jumping ability, being able to leap up to 6 feet in the air. Overall, chinchillas make wonderful and engaging pets for those willing to provide them with the socialization and care they need.
Guinea pigs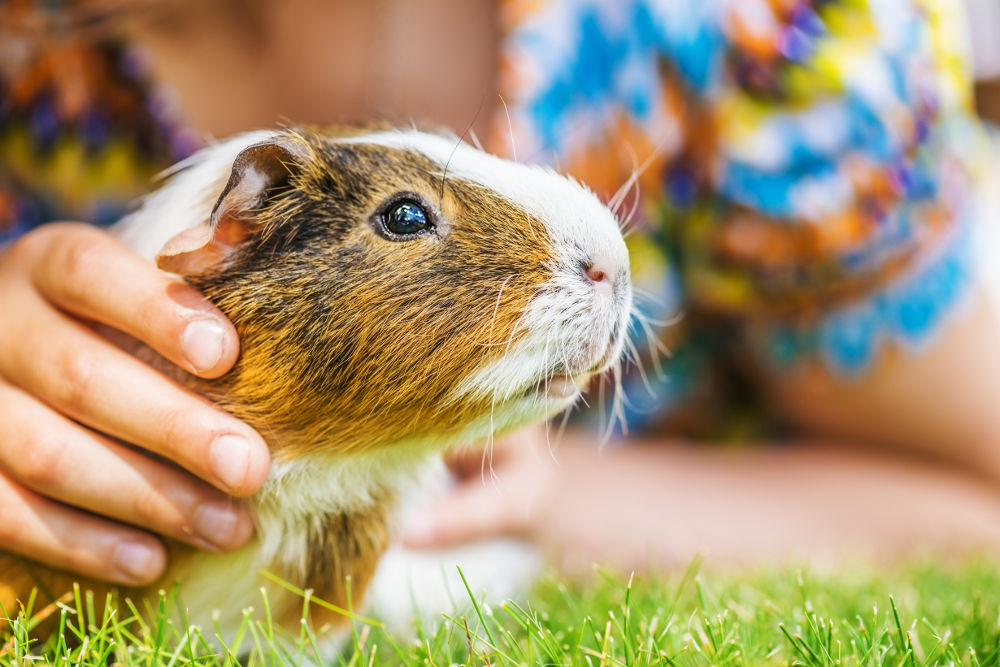 Guinea pigs are delightful, small rodents that are native to the Andes Mountains in South America. They were domesticated by the Incan people. No, they aren't actually from New Guinea! They have been domesticated for thousands of years and make great pets due to their gentle, docile nature and social tendencies. They are easy to care for as long as they have a spacious cage, a balanced diet with plenty of hay, and regular access to exercise. Guinea pigs also need lots of fresh vegetables. They love to eat leafy green leaves, vegetables, and herbs daily. And every once in a while, they can get a sweet treat like a bite of a banana or an apple! Just not too much, since they are high in sugar content.
Guinea pigs are known for their strong sense of smell, which they use to communicate with each other, as well as their playful and curious nature. Guinea pigs also have a wide variety of sounds that they use to communicate with each other and with humans. These sounds include chirping, purring, and whistling, among others. They have a lifespan of between five to seven years, though some have been known to live up to ten years of age. They are sensitive to heat, so it is important to keep them in a cool environment in the shade. Guinea pigs are natural groomers and will keep their fur clean through self-grooming and grooming each other, but they may enjoy the occasional brush out with a soft bristle brush! It is also important to know that guinea pigs are very active little creatures and love to run and play! They may not be particularly fast but it will be important that their habitat is big enough for them to have plenty of room to play.
Overall, they make loving and low-maintenance pets that are perfect for families with children.
Llamas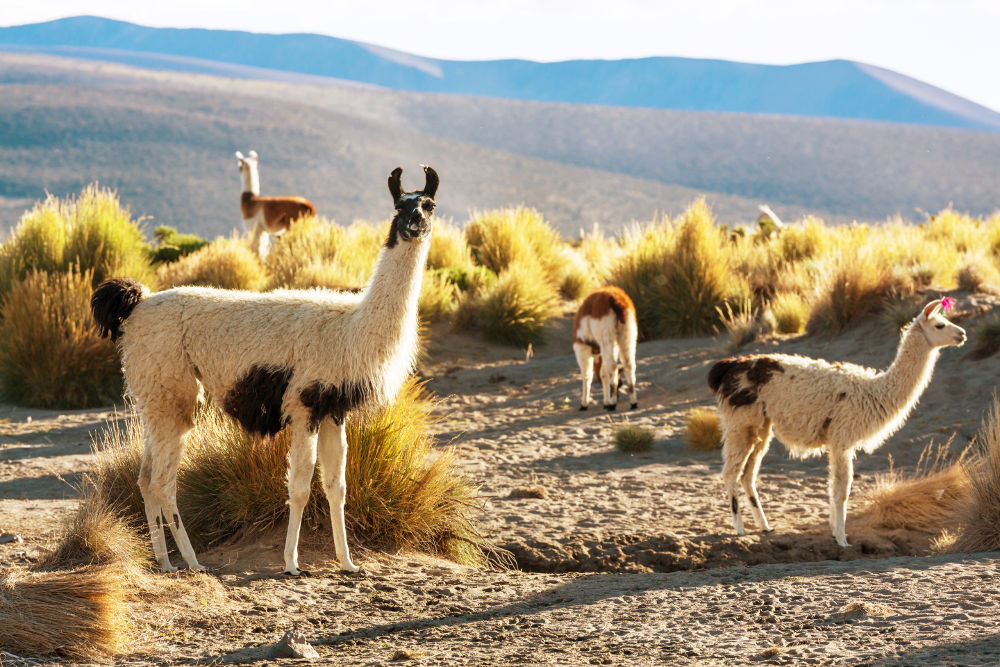 Llamas are domesticated animals from South America that are often kept as farm animals. They are also used as pack animals to carry heavy loads and as guardians, thanks to their instincts to protect themselves and other livestock. Llamas are intelligent, social animals that are generally easy to care for and can thrive in a variety of climates.
To keep llamas, you will need to provide them with shelter, such as a barn or three-sided shelter, to protect them from the elements. Llamas also need a secure fence to keep them contained and prevent them from wandering. They should be provided with plenty of clean water and a diet of hay, grass, and a limited amount of grains. Llamas also need regular hoof care and vaccinations to prevent diseases.
Llamas are generally easy to handle, but they can be rather skittish and are known to sometimes spit when they feel threatened. It is important to spend time with them to get them accustomed to human interaction.
Llamas are generally considered to be intelligent, social animals that can be very friendly, especially when they are well-trained and socialized properly. They are known for their ability to form strong bonds with humans and can be very affectionate with their caregivers. Llamas have a lifespan of 15 to 25 years on average, although some llamas may live longer. Factors that can impact a llama's lifespan include genetics, diet, housing, and overall health. Llamas are known for their gentle disposition and are often used as therapy animals because of their calming presence.
Toucan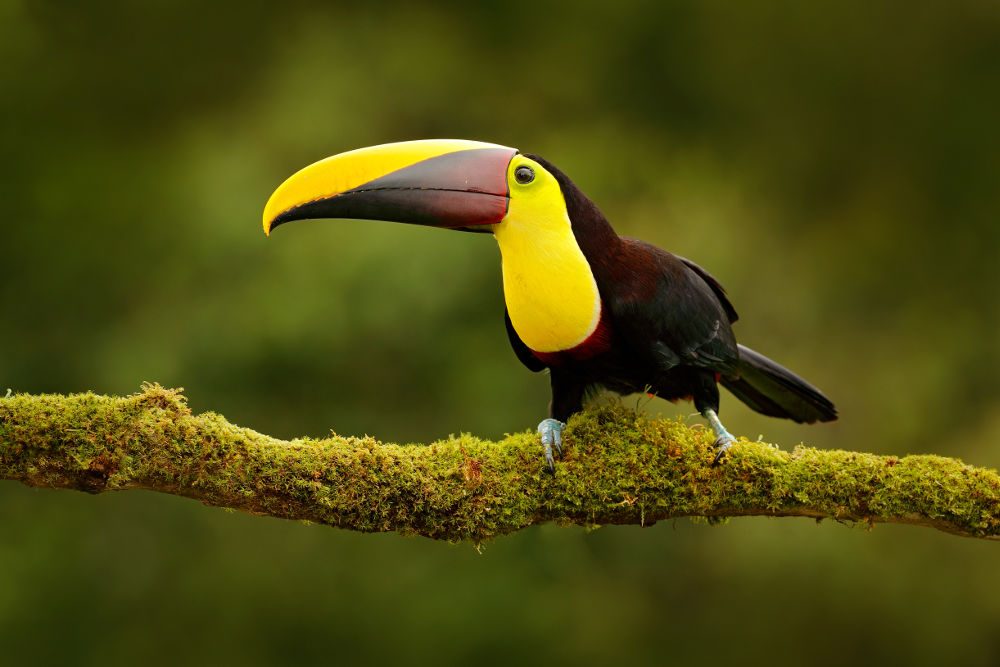 Toucans are a group of brightly colored birds found in the Neotropical region of South America. There are about 40 species of toucans, which are known for their large, colorful bills that can be nearly as long as their bodies. Toucans are found in a variety of habitats, including rainforests, forests, and woodlands. Toucans are omnivorous, feeding on a wide range of foods, including fruit, insects, and small vertebrates. They use their large bills to reach deep into trees and bushes to pluck fruit and to catch insects. Toucans have poor vision, so they use their bills to feel for food and to knock fruit out of trees.
Toucans are social animals and are often seen in small groups or pairs. They are not particularly good fliers, but they are agile climbers and use their strong legs and sharp claws to move through the trees. Toucans are also known for their loud calls, which they use to communicate with each other and to defend their territory. In addition to their bright colors and distinctive bills, toucans are also known for their large nests, which are often built in tree cavities or holes dug into earthen banks. Toucans are monogamous, and both parents help to incubate the eggs and care for the young. The toucan's large bill is actually very lightweight, as it is made up of thin layers of keratin, the same protein that makes up our nails and hair. While they can be kept as pets in Georgia, they are complex animals that require a significant amount of dedication from their human caretakers.
African Gray Parrot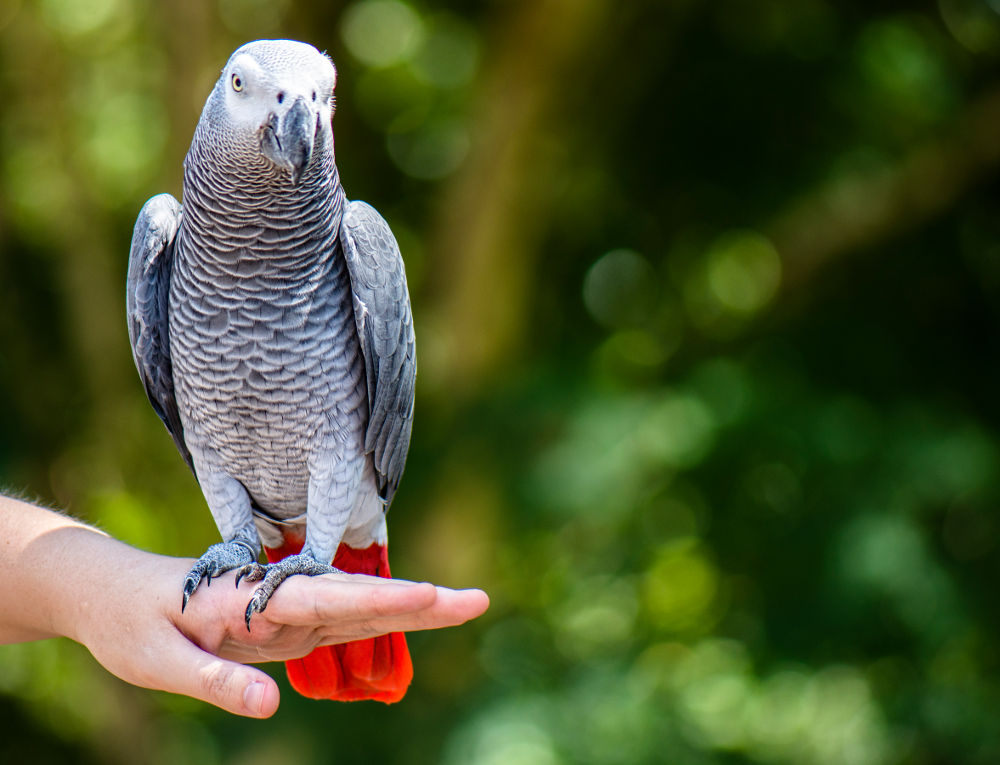 African gray parrots are intelligent and social birds that are native to the rainforests of West and Central Africa. They are known for their ability to mimic human speech and can learn to say hundreds of words and phrases. Not only can they say these words and phrases, but they also display an understanding of the meanings of those words and phrases. African gray parrots are also highly skilled at problem-solving and have been observed using tools in the wild. In fact, African gray parrots are considered to be one of the most intelligent bird species in the world. They have been observed exhibiting complex behaviors such as tool use, problem-solving, and even deception!
These birds have a distinctive appearance, with gray feathers, a black beak, and bright red tail feathers. They can grow up to about a foot in length and have a wingspan of around two feet. African gray parrots have a lifespan of around 40-60 years, so they can be a long-term commitment as a pet. In the wild, African gray parrots live in large flocks and can be found in a variety of habitats, including lowland forests, savannas, and mangroves. They are omnivorous and feed on a diet of seeds, nuts, fruits, and vegetables.
As pets, African gray parrots require a lot of attention and mental stimulation. These birds are known to form strong social bonds with other members of their flock and with their human caregivers. They can become distressed if they are separated from their social group and may develop behavioral issues as a result.
They need plenty of enriching activities to do, and toys to play with and need to be socialized with humans in order to thrive. It is important to provide them with a spacious cage and plenty of opportunities to fly and exercise.African gray parrots are intelligent and social creatures that can make great pets for the right owner. However, they do require a lot of attention and care, so it is important to do your research before getting one.
Burmese Python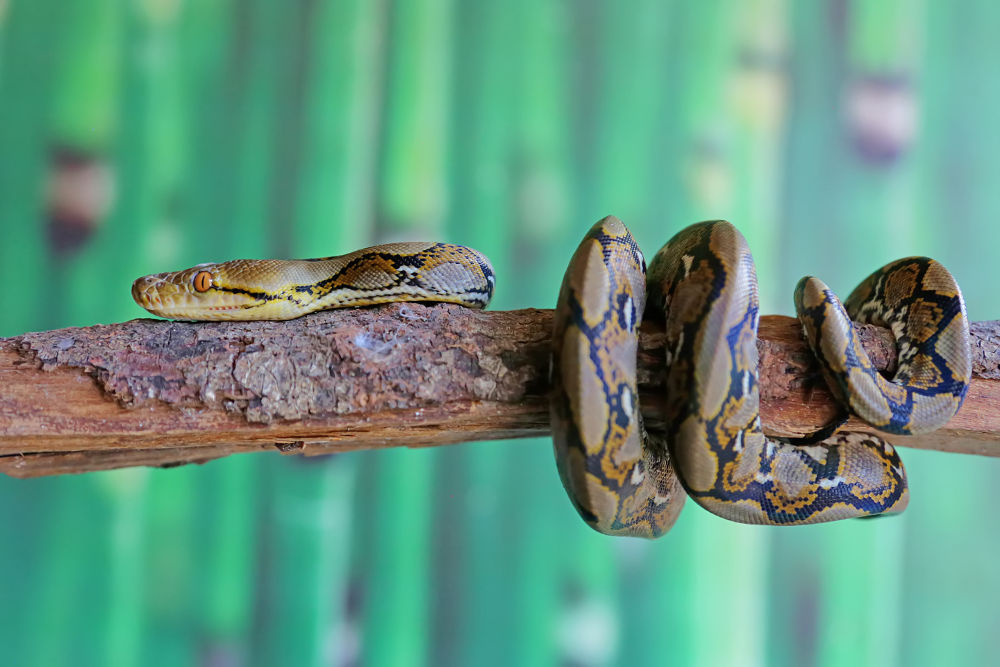 Burmese pythons are majestic non-venomous snakes native to South and Southeast Asia. Known for their impressive size, they can grow up to 23 feet in length and weigh up to 200 pounds. These s snakes are skilled swimmers and can often be found near water sources such as rivers and swamps. Their carnivorous diet consists of a variety of animals, including rodents, birds, and even small deer.
  While their size and striking patterns make them popular pets, owning a Burmese python requires a significant level of care and attention. These snakes are known for their docile and calm demeanor, making them a popular choice among snake enthusiasts. They are generally easy to handle and do not usually bite unless they feel threatened. Burmese pythons are skilled climbers and swimmers, and they have been known to climb trees and swim in water.
  They require a specialized diet of live prey and a large enclosure to thrive. These snakes are generally easy to care for, but they do require a large enclosure with proper heating, lighting, and humidity levels. And, of course, they also need a source of clean water at all times. They are best suited for experienced snake owners who are prepared to provide the specialized care required by this demanding species.
Cockatoos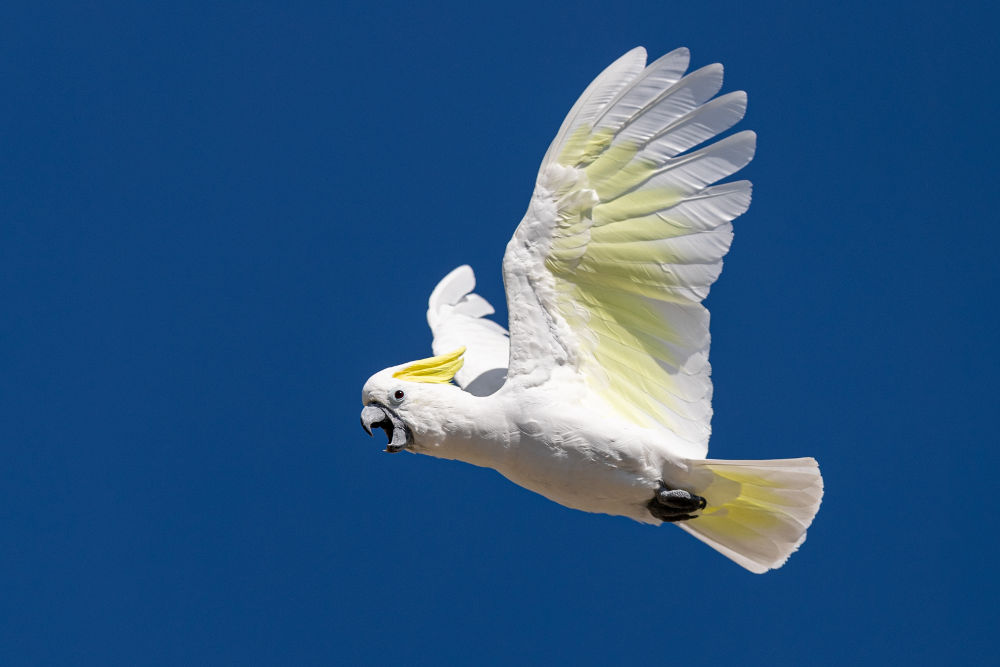 Cockatoos are fascinating birds native to Australia and its surrounding islands, renowned for their showy crests and distinctive and loud calls. There are around 21 species of cockatoos, varying in size from a mere 11 inches to an impressive 3 feet. These intelligent and social creatures can be trained to mimic words and perform tricks, but they do require a lot of care and attention as pets. In fact, they need regular interaction with their owners and plenty of mental and physical stimulation to stay happy and entertained. If you're considering a cockatoo as a pet, be prepared to devote time and energy to meeting their needs as social animals.
Cockatoos are known for their white or pale grey plumage, although some species, such as the Galah or Rose-Breasted Cockatoo and the Major Mitchell's Cockatoo, have striking pink or pale red feathers. These birds are highly social creatures, living in large flocks and making loud, distinctive calls. They also have elaborate courtship displays, which may include dancing, vocalizations, and strutting. As a result, cockatoos can be quite loud and may be more suitable for a home in a quiet location.
It is important to provide them with a spacious habitat or aviary, as well as a healthy diet that includes a variety of seeds, fruits, vegetables, and formulated pellets. Some species of cockatoos may be more adaptable to living in a household setting, while others, such as the palm cockatoos, may be more sensitive and require more specialized care. It is essential to thoroughly research and be prepared for the challenges of owning a cockatoo before bringing one into your home as a pet.
Chinese Water Dragon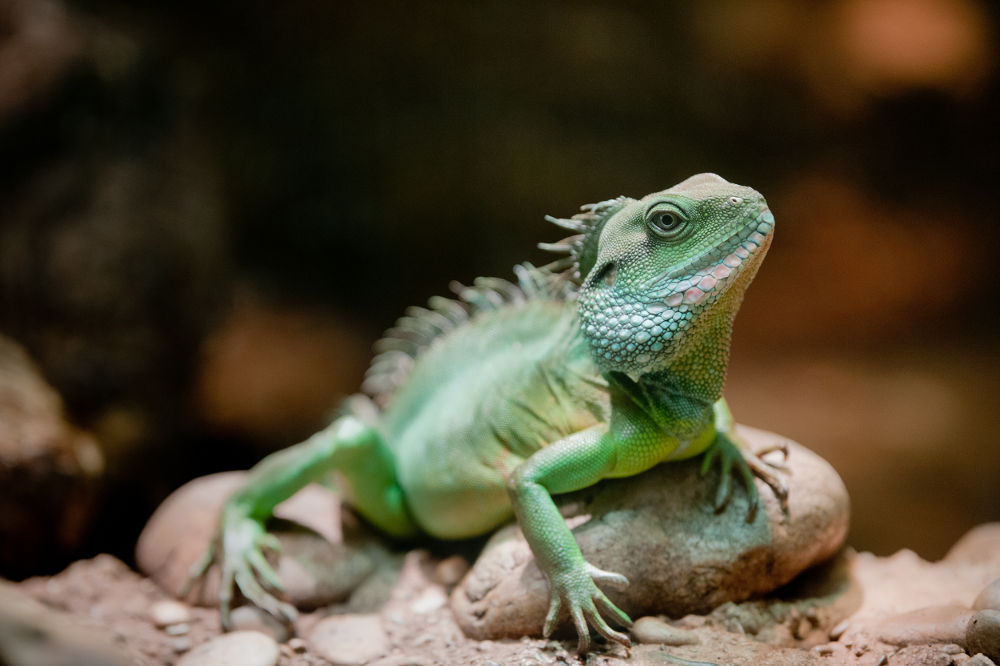 Chinese water dragons are a species of semi-aquatic lizard native to China and Vietnam. They are a popular pet due to their docile nature and interesting appearance. Chinese water dragons are generally green in color with dark bands running across their body and a row of spines running down their back. They have long, triangular heads with large, expressive eyes. They can grow to be quite large, reaching lengths of up to 3 feet in some cases.
Chinese water dragons are semi-arboreal, meaning they spend a good amount of their time in trees and bushes. In the wild, they can be found near rivers, streams, and other bodies of water. In captivity, they need a spacious enclosure with plenty of climbing branches and a basking area. They also need a water area, as they are good swimmers and enjoy soaking in water.
Chinese water dragons are omnivorous and will eat a variety of insects, fruits, and vegetables. In captivity, they should be fed a balanced diet consisting of insects (such as crickets, mealworms, and wax worms), vegetables (such as leafy greens, bell peppers, and squash. They can also be given various fruits on occasion like berries and apples. It is important to dust insects with a calcium supplement to ensure that your water dragon is getting enough of this important nutrient.
Chinese water dragons are generally easy to care for and make good pets for experienced reptile owners. They can be timid at first, but with regular handling, they can become quite tame. If you are considering getting a Chinese water dragon as a pet, it is important to do your research and make sure you are prepared to provide for their needs.
Conclusion
Owning exotic animals in Georgia is regulated by state laws and ordinances. It is important for potential exotic animal owners to understand and comply with these laws to ensure the safety of both the animals and the community. The top ten legal exotic animals in Georgia include sugar gliders, chinchillas, ferrets, as well as certain species of reptiles and birds like Chinese water dragons and Cockatoos. Those interested in owning an exotic animal in Georgia should thoroughly research the specific care and legal requirements for their chosen species and consider the potential risks and responsibilities before making the decision to bring an exotic animal into their home.