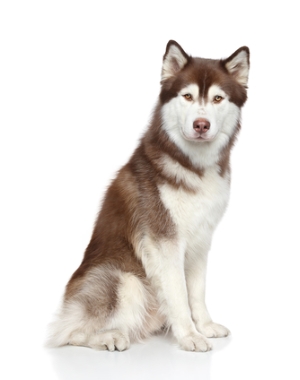 Colors
Black
White
Grey
Cream
Blue
Generic
Before the puppy comes home, you need to prepare a place for bed, mattress with nylon stuffing will be good, it will be harder to crack it, metal bowls are better, it will need a collar and leash, tape-line and a brush to take care of hair. Many dog lovers use the cell, particularly the first few days, learning the behaviour rules and the domestication of other pet when the owner is busy. You should check the yard and security fence of the garden just to avoid losing a pet.

The best age for breaking puppy from mother is the age of two months. At this time, all the necessary vaccinations are made, the buyer gets the correct registration of puppy pedigree, veterinary vaccination book, all vaccinations and anthelmintic treatments are noted, it is important to take advice on educating and feeding, phone number of the breeder for advice in the future.
Look for a conscientious breeder

You can see a list of nurseries and conscientious breeders who professionally breed huskies on the official FCI website, on specialized sites, magazines about dogs. It is recommended to visit the nearest dog show or competition, to talk with experts, to learn more about the features of the breed.

The future owner will be surprised to know that wildly kown breeders of purebred dogs husky care less about the color of dog's eyes and their color. Their main task is to raise puppy's physical endurance and mental health, according to the breed standards. The specialists carry out medical examinations of puppies' parents, know all the features of the litter, they're interested in the conditions of living and give advices potential buyers.

The first meeting with a puppy

At the first meeting it's necessary to ask the breeder to show the entire litter, such a meeting is possible between the age of four to six weeks, at this time puppies are already energetic, they get acquainted with the surrounding world. Watching the puppies playing, ask the breeder which of the puppy he would recommend for the family. The specialist will advise you the pet's sex and nature. Male dogs are usually easy to educate and train, steady but strong and there may be difficulties to walk with them on a leash. Puppy girl is smart, flirtatious, playful, it loves to be naughty, shows affection to the owner. At the first meeting, it is important not to frighten your puppy, you can sit down and talk softly, walk a little on a leash.
Appointment
Impossibly beautiful, with heavenly blue eyes, funny and good-natured Husky today is very popular breed among beginners and experienced breeders. Siberian Huskies are often victims of their attractiveness, cheerful character, their gorgeous appearance leads to emotion. You should understand they won't become good friends for anyone with character traits associated with the origin of the breed and its destination. To get healthy in all ways dog, purebred, with good skills and sweet temper, you need carefully and reasonably choose a puppy.
How to choose
If a dog lover decided to buy a dog and it's husky, he must understand why he wants this animal
the dog will be a pet, pleasing family members with its external features and good-natured character;
the pet will take part at purebred dog shows, will win medals and prestigious titles;
the owner would like to breed pedigreed puppies;
the animal will put itself to dog sleds, participate in the long races;

It isn't easy to choose the best puppy in the litter of Siberian Husky. This term is often used in the application to the exhibition circles, denoting puppies who can win the ring. They very change while growing, the maturity of the dog comes from three years old. Huskies are characterized by strength, endurance and the ability to race genetically, puppies in the litter are often equal in rate and capabilities taking into account purebred parents. But there are some parameters that should be asked:
remoteness, sky-blue or brown almond-shaped eyes;
high set on the head, of medium size, triangular in shape, thick ears;
skull of a dog is of medium size, round at the top, is proportional to the body;
gray, black and red colored huskies have black noses and brown huskies have brown noses;
chest isn't broad, its central recess is at the elbows.

Training
Husky puppy can be taught obedience and it can be trained. At the same time it has different instincts on its mind, so you should keep them away from small animals, birds, cats, rabbits.

Puppies are extremely loyal, show tenderness and love to the master, get along well with other pets, if it's the only one, it will require personal attention to itself, will wait a long time from work.

There are fights with small dogs (they look like cats and rabbits) because of its domination instinct. Huskies should be kept separate from small dogs.

Huskies need not only communication, care, home, where love them, but in physical activity, deep instincts of Huskies overcome difficulties and distances as a specialized breed of sled derived from native species in Siberia and Far East, one of the best for the dog sleds.

Most people who want to buy a dog, consider an option with only a little puppy, but the adult Husky has many advantages, mainly in the absence of risk for the period of growing up to get a completely different expectations of a pet.

However, if you buy a puppy, it's possible to teach it in a timely manner for the way of family life, family relations, respect to other pets, how to behave in the house, of course, this will require a lot of time, effort and patience.